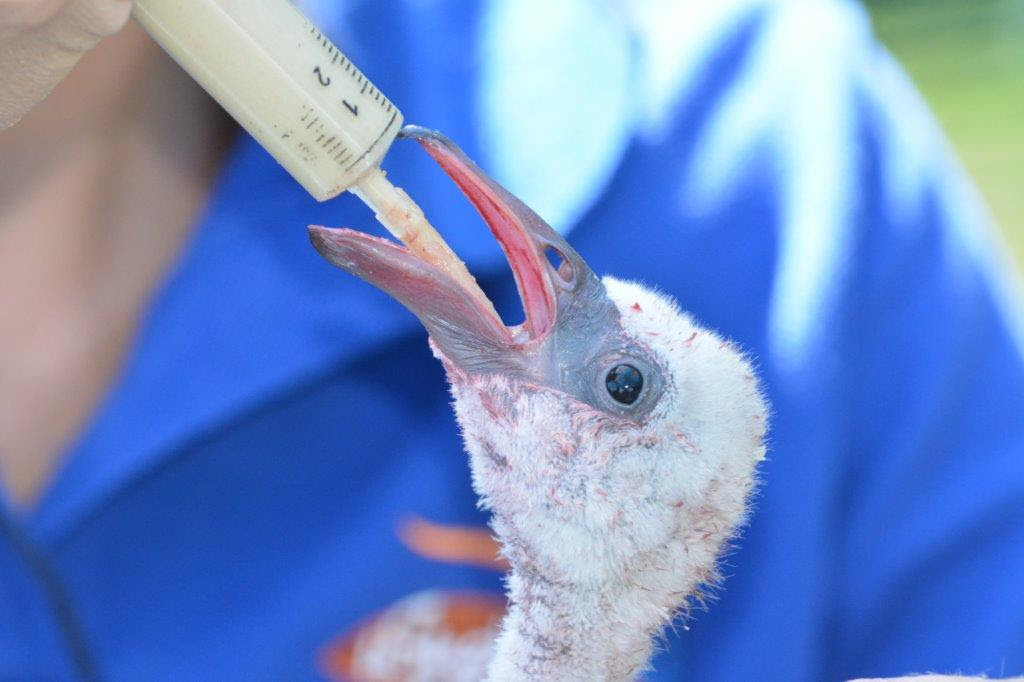 Crocworld reintroduces Monthly Conservation Lecture Series
Crocworld Conservation Centre is delighted to announce the return of its monthly environmental lecture series, which will be hosted at the newly launched Fish Eagle Café.
The first lecture in the series will take place on Saturday, 9th March. It will explore the rescue and rehabilitation of abandoned Lesser Flamingo chicks at Kamfers Dam near Kimberley in the Northern Cape.
According to Birdlife Africa, the Lesser Flamingo is listed as "Near-threatened" on the International Union for Conservation of Nature's (IUCN) Red List. This is mainly because of a declining population, few breeding sites, and human-induced threats to the breeding sites.
Kamfers Dam is one of only four breeding localities for Lesser Flamingos on the African continent and the only breeding locality in South Africa. It supports the largest permanent population of the species in Southern Africa, with an estimated population of sixty thousand Lesser Flamingos.
However, due to the severe drought, more than five thousand chicks and eggs were abandoned in January this year. The Kimberley SPCA approached various rehabilitation centres around South Africa, including the uShaka Sea World Animal Health Department, to assist in hand-rearing the Lesser Flamingo chicks.
Since 27th January staff at uShaka Sea World have worked tirelessly to rehabilitate more than 250 chicks. According to Ann Kunz of the South African Association for Marine Biological Research (SAAMBR), staff and volunteers have spent hours feeding chicks special feed through syringes and constantly monitoring the birds, many of which were initially in uShaka Sea World's hospital.
"Last week, chicks were a delicate creamy white colour with some darker down feathers. Most of them are now sporting a pinkish tinge on their feathers with bright red faces and scarlet mouths. This week was a milestone as many of the chicks in special care have left the ICU and are spending a couple of hours each day in the high care enclosure outside, enjoying the sunshine," said Kunz.
Join the staff from the uShaka Sea World Animal Health Department who will be sharing their fascinating experiences rearing these flamboyant birds at Crocworld Conservation Centre's recently launched Fish Eagle Café. The restaurant boasts exquisite views, delicious food and great service, under the management of the vastly experienced Executive Chef and manager Morne van Zyl.
Martin Rodrigues, Crocworld Conservation Centre's manager said, "We are ecstatic that our monthly lecture series is launching with such an interesting subject. We look forward to our guests enjoying a combination of knowledgeable experts in a picturesque venue."
Registration for the event is at 08h30 with the lecture beginning at 09h00. Tickets will cost R50.00 and include an Early Bird Breakfast with a cup of percolated coffee, as well as entrance into Crocworld's indigenous gardens, and bird and reptile centres.
For more information or to make a booking, contact Morne van Zyl at the Fish Eagle Café on083 658 7073 or email mvanzyl@cbl.co.za. Alternatively contact Martin Rodrigues on 078 484 1859 or Crocworld Conservation Centre on 039 976 1103.
---
Catch us on Facebook at http://facebook.com/thesardine.co.za/ where we also keep up a steady stream of news.
Check out our Trips and Travel menu above.