Dorado Strike Analysis – up close and personal
Dorado Strike Analysis – up close and personal : this might be the best experience I've gotten from my underwater cameras so far. I've got shad chowing like piranhas. Sharks tailing my boat. Couta attacking. So many cool experiences and visuals.
But this…the clean water, the lighting, the big shad live bait…and this shoal of eager Dorado…just takes the cake.
Strike 1
This first Dorado does not hesitate. She comes straight in for the kill. But even with that 8/0 hook in its lip, the shad makes a successful evasive manoeuvre?! Only visible with 60 fps footage to work with.
Strike 2
It takes a few seconds for the others to close in and investigate. These guys never went in blindly and on the charge like the couta aka king mackerel do. Well, the first dorado did just go straight in. But soon enough one of them gets driven beyond temptation and moves in for the kill shot.
To the head! Watch the full video analysis at the end of this post. Click the link to watch it on YouTube for the full interactive experience.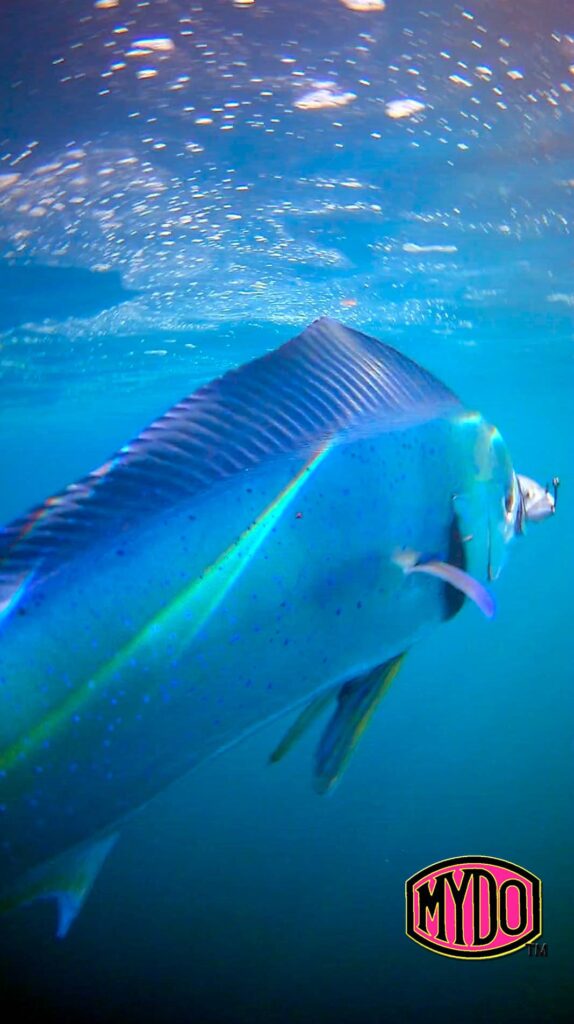 Every time, these fish aim for the kop, and immediately they are clear of the pack, start to turn the bait around and swallow it head first. They way they can manipulate and move that bait into swallowing position – head first – even under drag, is way impressive and clearly demonstrated in the video coming up at the end of this post.
Strike 3
The shad was free again. I pulled him right away from striker two. But striker three was right there and in half a second had gotten ahold of the shad.
Exactly the same. A lightning blow to the head. Coupled with an extreme charge to escape the pack, and then down the gullet. Except my 3 kgs of Stella drag once again came into effect and never allowed that to happen.
I need my camera back every time! I have lost quite a few over the 5 years or so that I have been using them. Check out the GoFish cameras right HERE.
Since I have these cameras, there is absolutely no way I want to ever catch a fish again. I want only to film the strike and underwater action!
Watch in it all in super-slo-mo video right here…
Dorado Attack Behaviour Strike Analysis Underwater – YouTube (click to watch on YouTube or enjoy below)
Buy at https://thesardine.co.za/mydo
Learn at https://youtube.com/@mydotackletalk
Come fishing with us at Umzimkulu Adrenalin. Stay at the Umzimkulu Marina. Check out the marlin fishing at FishBazaruto.