An infamous cast, tropical location and action boat – the shooting of 'Tropical Thunderings at Linga Linga', gets underway today.
Famous names include Captain Gallop and Captain Cook, with quite a few upcoming acts in the mix.
The launch from Barra is set for low tide. Tonight is set on Survivor Island – main activities being fire, food and fishing.
Tofo this morning…
Tomorrow the crew heads way up into the Morrombuene Estuary searching for the prawns, mangrove forests and rock salmon.
Stay close to this blog. Updates every few scenes…
Day 2 (not sure what happened to day 1, but it was spent on the island and under the stars)
Captain Dave Charley heads out to get some livebait this morning at Linga Linga. Although he came back with two karapaw and a flounder, it was not enough to get a strike on the fishing trip later in the day.
Slow trolling around the ocean side of the Linga Linga peninsula did not prove exciting so back to Linga for more strategising.
Loving the smell of Linga Linga in the morning…
Guest Greg out from North Carolina caught the only fish this day…a delicious Lula, or pencil squid. Many of the same fish species and methods of catching them are common to both Florida and Mozambique. We're just looking for a tarpon now!
Oh ya…Frenzy just reminded me she caught a lizardfish and a sandsoldier that afternoon too…
The action vehicle…what a boat! This ones got a twin cylinder Lister Diesel motor! A bit smelly and noisy sometimes but perfect for cruising the Inhambane Bay. Slowly.
Renske and Steamer warming up…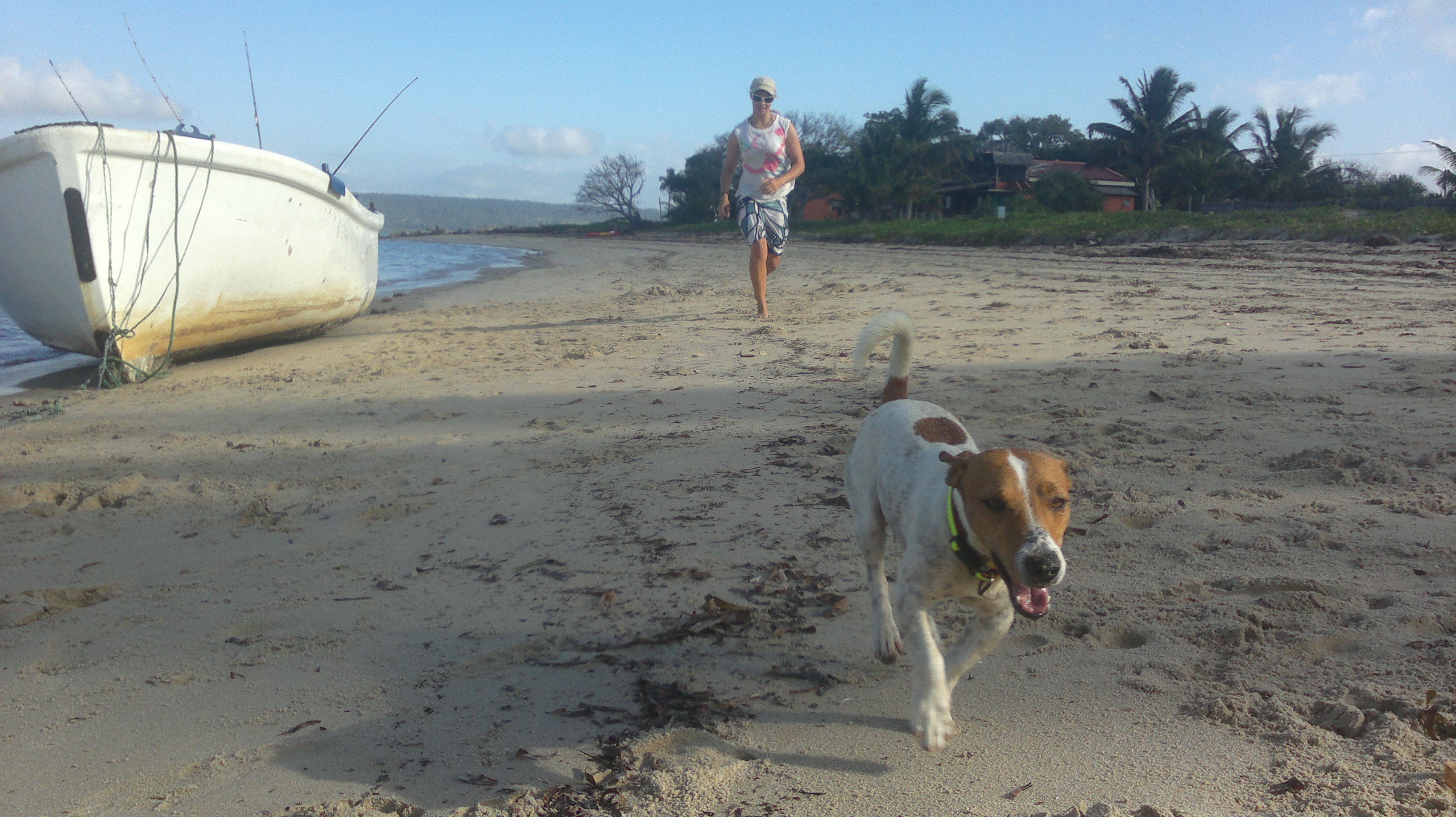 Ettiene, Amanda, Benny and Pedro came by on their way back from the fishing grounds off Morrumbuene. 5 nice couta and smiles all round…Ettiene runs silverfishlodge.co.za up the Morrumbuene Estuary. They offer deep sea charters and accomodation right on the lagoon.
Being out here puts you within striking reach of many fresh fishing spots. The Sylvia Shoal starts about 10kms north of where we are on this trip! Acres of reef.
Day 2
This morning we woke early again, to try fulfil one of our objectives – a couta from the shore on spoon. 500 casts later, to fish jumping all over – couta in the 4 to 8kg size, we had to give up. It's hard work and we had to get 100m of line out to reach the action. There were so many fish. Greg was pacing with encouragement and the dogs were beside themselves seeing the fish flying 5m through the air. I remember the semblance of a chase early, but with so much baitfish available, the couta were being very picky. Humbling.
The wind picked up a little this day, so cruising the estuary towards Morrumbuene was enough for us. Resting and eating, in preparation for the morning. We never saw any fish this night either.
Day 3
Early to bed, early to rise. The water was glassed off and crystal clean. And we headed to the wreck of an old whaler scuttled in wartime, out front of Castelo do Mar. Another objective, in fact a permanent one, was to find the rock salmon. As I popped my head over – there they were! 5 Rockies cruising around, about 2kg's each. Frantically I ran back to the boat for my dropshot rig and Captain Gallop and stalked the fish. As we searched the wreck, out of the depths every now and then, in between the mullet, karapauw, wrasse, glassies, sardines…etc…the dark and ominous red shape of the bigger rock salmon could be seen. Cast after cast yielded nothing. And then it happened…
The neaps make this estuary mouth quite useable through the tides. We were on slack low and almost as the tide turned, the place came alive. The first gamefish to launch an assault were kingfish, not huge but destructful as they herded and smashed the baities. Yet still naught for us as we casted to them, in front of them, and behind them, trying to predict their next moves.
The makolo's had appeared on the scene now. Anchoring about 10m away from us. Calmly and with that knowing look, out came the tiny hooks as the young salts started catching live bait. It wasn't a minute before he caught a karapauw and with one big single hook behing the neck, sent it swimming straight down the mouth of a beauitiful couta – 8kgs about! Right in front of us. On handline! The fight was spectacular as he expertly maneuvred his makolo inbetween the other guys, and eventually handed it off to his older comrade to be gaffed and boated.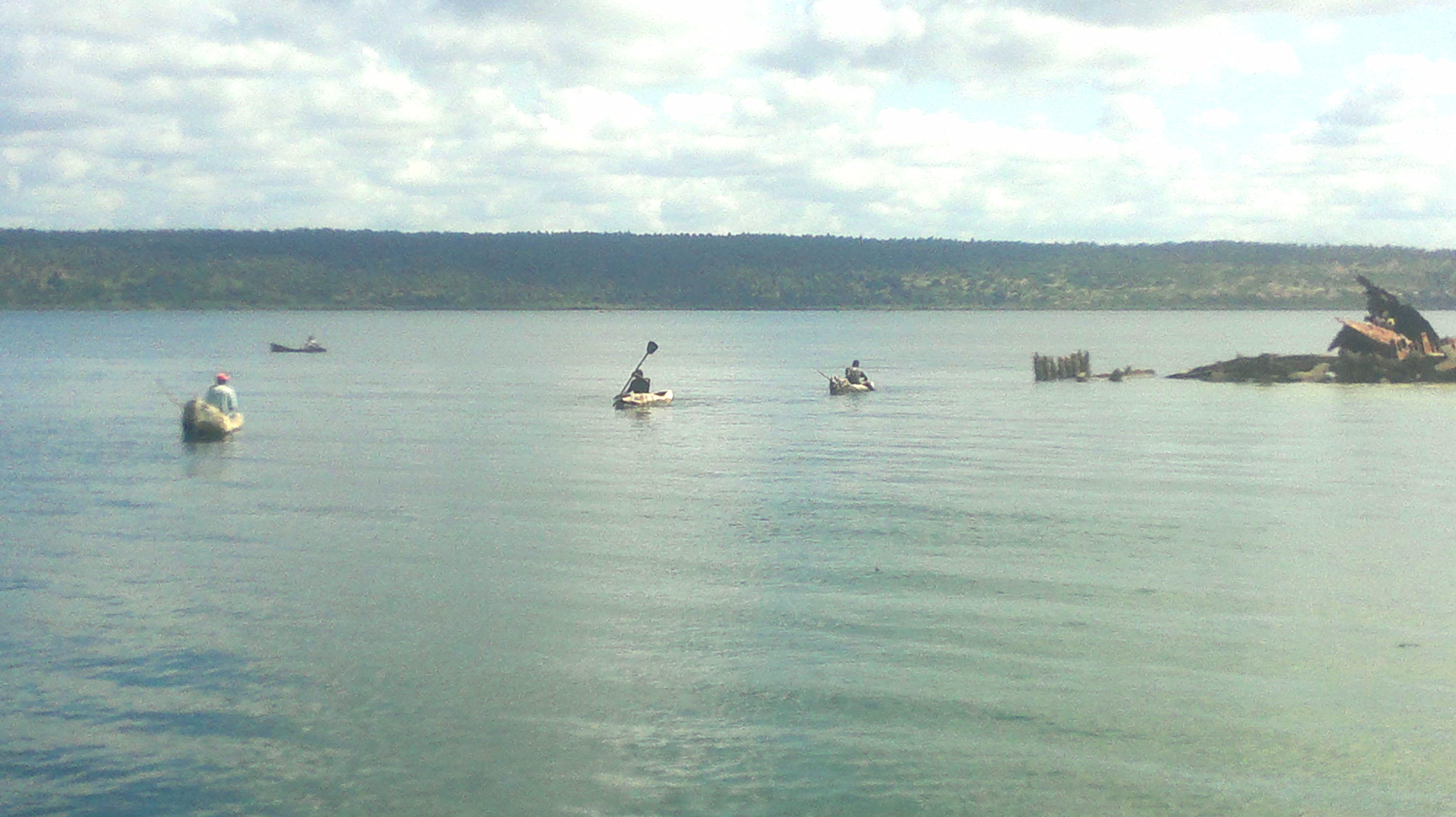 So now we had seen it. I never imagined a place where you could fish like this. The forward thinking gentlemen at Costelo do Mar have been placing dollosse (huge star shaped concrete things) on either side of their little beach for 6 years now.
This has had a startling effect on the environment. Firstly, the netters can't simply drag the bottom now, without snagging. And along with cages filled with crushed cans dropped in the middle of the 10m deep channel, they have created an amazing artificial fish attraction.
The baitfish are herded into the beach in front of Costelo do Mar, just before the wreck. The drop off is intense so the couta come ambushing upwards at huge speed from the deep and literally explode into the shoals of panicking baitfish.
First you see the baitfish feeding. In this distraction the couta setup their charge. 2 or 3 couta hit at the same time. It is spectacular. Water everywhere. And what a sound! Every few minutes the cycle would repeat. We had two strikes but were so mummified by the scene, they both came off before we got serious about them. The makolos were now making hay and 6 fish came out in 30 minutes. We bought one in the end!
Then as soon as it started, it stopped. As the tide came in the fish seemed to swim past us and into the estuary for high tide relaxing.
So. Rock salmon (mangrove snapper), kingfish and couta. All in a 50m radius cut in perfectly calm, clean and flat water with a source of livebait and beer a wade away!
At this point Anna jumped in with a speargun and mask and was surrounded by couta. On 3 seperate occasions they came in to inspect her. The gun was too small but Anna proved you could also shoot fish here, in the rare right conditions. When the tide gets bigger, the water muddies up and the current screams, making it more dangerous than enjoyable.
In fact, these waters and this fishing relies heavily on the right conditions prevailing. It can be wild out here and it is very remote.
Luckily there is a wide choice of accomodation and recently EDM were connected up so there is power now.
So there it is…Linga Linga and Morrumbuene…on a plate. Contact us!
umzimkulu@gmail.com