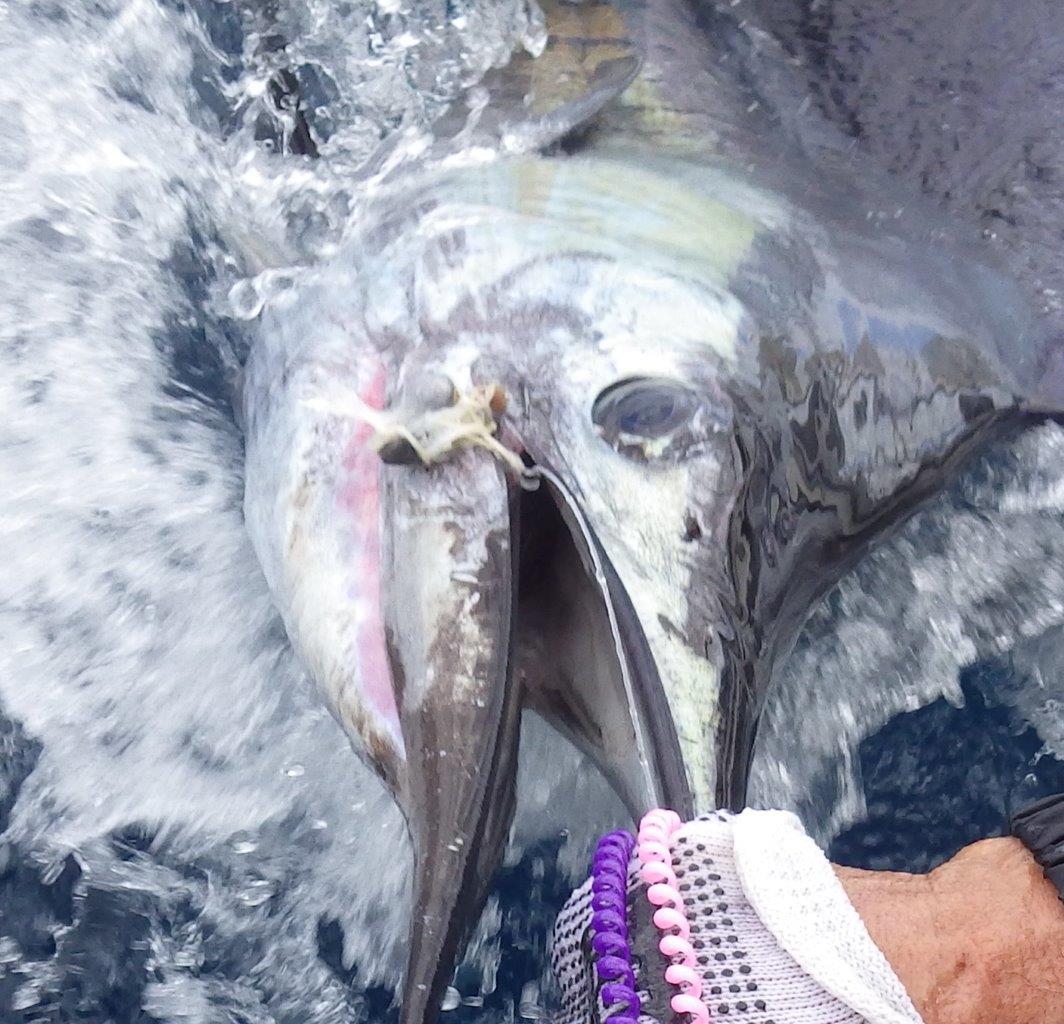 The day the "mojo" worked: The Sailfish Interprovincial by Captain Len Mathews
Mydo team rider Captain Len Mathews checks in with a fantastic roundup of his teams recent success at the 2018 Sailfish Interprovincial held at Sodwana recently. It is an extremely technical and thorough reference as to what it takes to consistently catch more fish than the competition.
Congratulations Len, and thank you for the informative and totally interesting article!
Keep winning!
---
Hi Sean,
Been a while since I last spoke to you or contributed to The Sardine News. You asked me for a story and pics on the Sailfish Interprovincial we won recently, so here it is:
The day the "mojo" worked:
The Sailfish Interprovincial Is a yearly event held at Sodwana, in winter. The "who's who" of sailfish angling represent our country's Provinces in this event. This year 11 Provincial teams, consisting of salted provincial, SADSAA and Protea anglers participated in this 5 day competition.
I am sharing what our Griquas green team did to pull this off. It is in no way whatsoever a seminar on sailfish angling, a "what to do" article or any intent for this article to be of any educational value. This what we did to catch 5 sails in 2 days. Considering the other 10 boats caught 4 between them, I consider this not to have been a "luck shot" (no pun intended).  (ha ha thanks Len – Sean)
My team consisted of myself, my wife and fishing partner Alta and my good mate and longtime fishing buddy Donald Finlay, We fished off Jannie Nel's "My Lady", skippered by seasoned Sodwana skipper Follie van Vuuren. Between myself (40 years), Follie (15 years), Donald (30 years) and Alta (5 years), we have 90 years of combined experience fishing Sodwana. This also proved to be of great value, especially in this Competition!!
I am dividing this story into subsections, to form a clearer picture of the "process" we followed with preperation and execution of our plans.
Bait:
We all know proper bait is the answer to most questions. THE bait for sailfish is obviously halfbeaks, the fresher the better. On a good day a well presented stripbait also does magic, but in my book it is nothing more than a good second prize. I am lucky enough to have access to prime halfbeaks, so this is what I stick to!!
Bait preparation:
I was introduced to a good brine that my good mate and Protea angler, Paul Borcherds brought in from the USA. I had it analysed by a lab and now probuce a 100% copy of it. I brine all my baits for 12 hrs before rigging it. The advantages of the brine is tougher baits with much more enhanced colour. After brining baits, I have used the same bait for 4 days in a row, without it showing signs of excessive deterioration.
Bait rigging:
I rig sailfish baits in 3 different ways, depending on the position you want to swim it in. I rig them headless, whole double hook rig or chin weight rigged for circle hooks.
What goes where?:
I normally (take note I say normally, not always) swim smaller (head off) baits on my long riggers, 10-15 m behind my short riggers. On the short riggers I normally (….) swim larger (whole) baits, not more than 5m behind my teasers. This can either be a whole halfbeak with lure over it or a chinweight rigged halfbeak on a circle hook. On shotgun I will use any one of the two double hook rigs, mostly with a small bird in front of that. My teasers I will usually swim 20-25 m behind the boat, from the middle of the outriggers, in clear water next to the white water. In "normal" angling conditions this causes just enough commotion close to the boat, to get attention and lure the fish to the boat. This covers 5 baits. My 6th bait will be a lipped lure below and between the teasers or a normal bait behind a cupped lure running in the "dead triangle" between the long riggers and shotgun, in line with the long riggers. I use a dark lure to contrast in the little foam or white water there is. This is my "basic" spread, that works well 80% of the time.
Conditions:
Weather was not too good for the whole of the Sailfish interprovincial 2018. The first two days of the comp was blowouts, leaving only 3 days to fish. There was an abnormally high barometer at the time, for the whole duration of the comp. That proved to be the major decider in the end!!
Day 3 (1):
The day "normal" left the bus!!
I firmly believe that on this day, the comp was "handed" to us. 2 Fish were caught by rival teams. Reports of fish coming into spreads, appearing to be shy and skittish to attack baits and eating baits furthest away from the boat, made us fall back on experience. We als had fish pop up further from the boat than usual and showing a general skittishness to eat. It took us half a day to figure this out, but we immediately knew that the "culprit" here was the high barometer. We also realised that this was a situation of "to achieve something different, you have to do something different". We had a good idea what to do the remainder of the competition.
Day 4 (2):
Mojo day!!
We changed our game totally!! Firstly we did not put a single teaser in the water.We believed that too much commotion close to the boat scared the fish, especially as a result of the high barometer. Secondly we only used dark or lumo lures in front of our baits and only one circle hook bait in the water. Thirdly, we also used very small baits, as the sailys were mostly small fish. Lastly, we dropped ALL the baits at least 15-20m further back than what we normally do and we slowed down our trolling speed to just enough to make the baits break water every 4-5 seconds….. Just before 08:00 we had a tripple strike. One did not stick for long and came off quickly, but 2 were vas!! 20-25 mins later, myself and Donald each released our fish and jubilation was the order of the day. At this stage we KNEW we had diled in on the mojo and this was our comp to lose. We also noticed that it appeared as if none of the other teams changed their modus operandi to suit the conditions.
After brief congrats, we put out an identical spread. We knew it would only be a matter of time………which it was. 11:50 we had another triple strike, one on the circle, long rigger and one on shotgun. I took the circle, set the hook properly and Alta took the other.The third rod was on, but also came loose quickly. Another 20-25 min later, we both released our fish. To say that a small party broke out on "my Lady" is an understatement!! We knew that for anyone to catch us now, they had to release 5 fish, a tall task is conditions like this!!
Day 5 (3):
After very little sleep, we went out to continue our "quest", adopting the identical tactics as the previous day. Low and behold, 08:00 we had a strike, solid hookup and 25 mins later Donald released his 2nd fish for the comp. It was more or less then that we knew we had it done and dusted. The rest of the day we decided to practice our circle hook skills and had all 6 baits out on circles. That did not produce any results, but at that stage we did not really care if it did or not……………. 14:00 was lines up and……………..GOLD!!
Conclusion:
After each sailfish interprovincial, or any competition we fish, we usually have a debriefing and summarise events in our own way and fasion. I have a saying, "I never lose. Either I win or I learn" In this comp it was more true than ever!!
We learned a lot from this experience:
Experience is worth GOLD!!
Never be afraid to try something different. It may just work…..
Learn how to read changing conditions.
Be willing to adapt to those conditions.
Persistence pays off!!
PREPARATION BREEDS SUCCESS!!
Hope you find this interesting.
Regards,
Len Matthews.
---
Wowser, what a story! Those Sodwana sailfish can drive you mad sometimes, but Len and crew seem to have it down pat. Thanks again Len
---
Post by The Sardine News
Catch us on Facebook at http://facebook.com/thesardine.co.za/