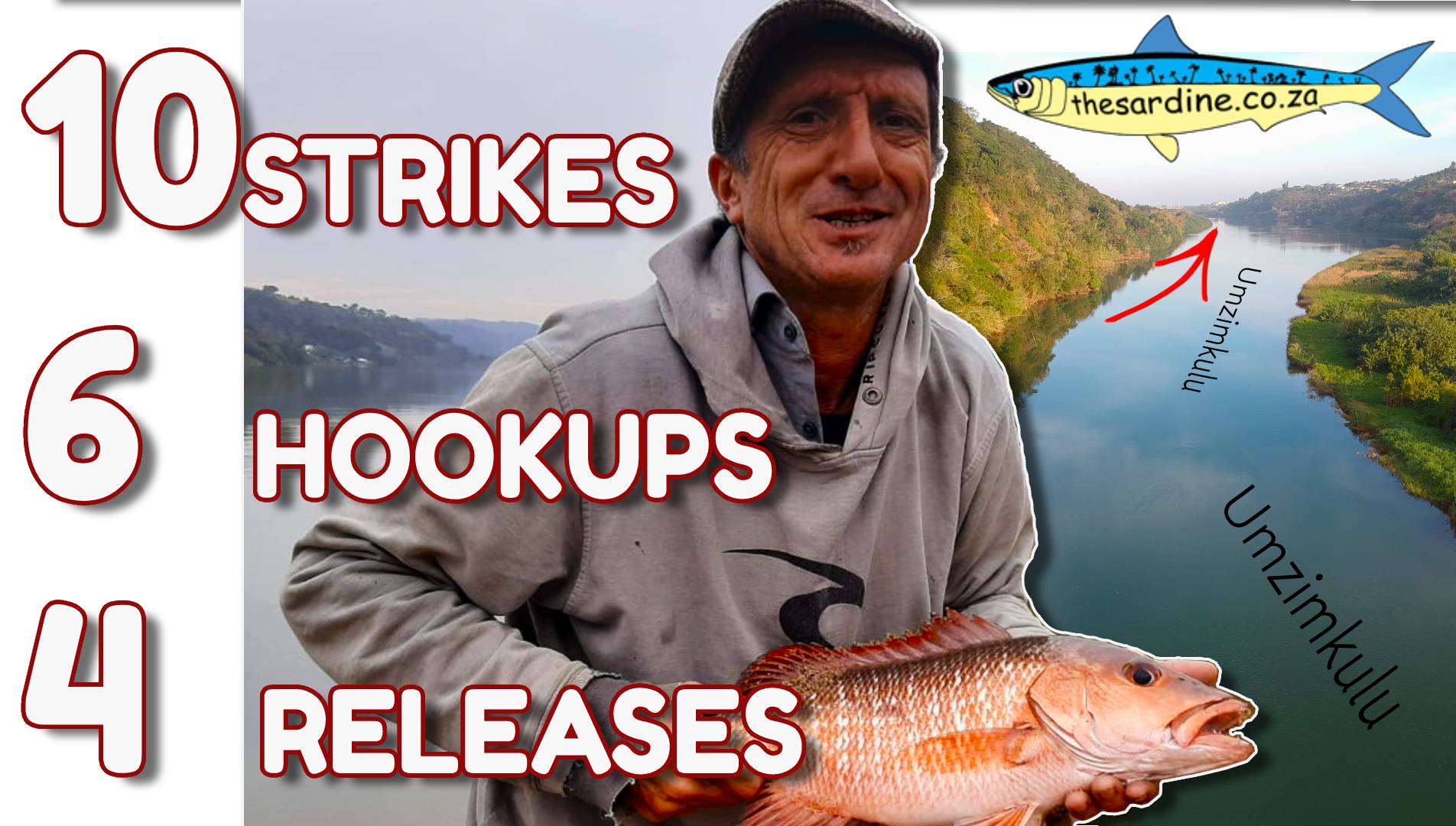 10 Strikes. 6 Hookups. And 4 Fish released. ROCKIES!
10 Strikes. 6 Hookups. And 4 Fish released. ROCKIES!: but after I tallied up all the results again after more pictures filtered through, the score was way higher.
It was more like…
20-12-8
Yep, in non-marlin speak that means 20 strikes, 12 solid hookups, with 8 solid fish bought to the beach—all in a one-afternoon session. All released. The fish just got busier and busier, when we left, some guys were still wrestling rock salmon from out of the submerged trees at the mouth of once again fishing mighty Umzimkulu.
Enjoy the action in this lucky little movie..as some cameras recorded some of the action that day…
After being so fish-strapped for so long as the rivers all purged and purged floodwaters, this was an absolutely magnificent afternoon in the sun. Right down at the all-new Umzimkulu mouth as an innovative sandspit has grown itself along the inside of the bridge. Making for a long narrow deep channel that every fish in the zone has to use at one point or another.
It was just on the inside of this all-new channel, that a few trees and things have settled. And they are holding fish. The fish are preying on the shoals and shoals of over-eager baby stumpnose. There are plenty! In amongst this lot are grunter. And in the background setting up ambush – the rock salmon aka rockies.
Gallery
Hit the fish alarm!
Contact me at https://umzimkuluadrenalin.co.za where there is a big WhatsApp button there for you to smash. Or, I am on umzimkulu@gmail.com and +27793269671 anytime.
We have accommodation at the Umzimkulu Marina, or here at Spillers House. Umzimkulu Adrenalin has the fishing and ocean safari options and rates thereon.
The rockies are waiting!