MYDO Lures
Welcome to…
The MYDO Bait Fishing System
Invented in the eighties by design award winning engineer, Brian Davey, the MYDO Baitswimmer concept and fishing system has stood the test of time.
Evolution, started by the MYDO Baitswimmer, brought us the Stripswimmer, Superskirt, Superfish, Supersquid, Superspoons and Billplates.
The new generation of MYDO, have propogated the Luck Shot range of heads – rigged for plastic baits. Paddletails and jerkbaits fit like a glove onto choice hooks. The new lures have their own unique action. Depending on the retrieve.
There are two models – the Luck Shot Mini – It veers, swerves, flails and wobbles – but never spins. At higher speeds it behaves like a surface plug or kona dragging a beautiful irridescent bubble trail when it breaks the surface and dives back through again, and again…
And the Luck Shot…which travels true and straight, but with the action of a crankbait. Great for fast or slow trolling, casting or drifting…
Baitswimmers
Utilizing hydrodynamic and aerodynamic foil principles, the Baitswimmers impart a natural swimming action to their baits, via the fastening pin. This is what makes MYDO Baitswimmers unique and original, and what the patents protect.


Rigged, they come in heavy and light tackle, and different bait sizes (10, 15, 20, 25 cm's)
Insert: Rigged on Packaging
Or you can rig your own to your bait's exact dimensions, and your style of fishing.
The Baitswimmers are 'transformer' versatile – they can be used for all kinds of baits, big and small – as a downrigger in many applications – and for livebait IGFA style.


The colours we offer are carefully chosen to be suitable to a variety of water and light conditions. Tip: bright colours for bright days and surface fishing, darker blues and greens for deeper water and dark conditions. It's contrast and colour change fish can see irrespective of colour. Hence the contrasting eyes and variety of plastics on offer.
Stripswimmers
Swimming strip baits is an art form, of fishing strategies…and the MYDO Stripswimmer range evolution, just made it so easy. A bait clip built into the middle of the lure, can hold either the fitted plastic skirt, or that can be replaced with a strip of bonito, shad, sardine, or whatever you choose. This adds a natural scent element, and it moves tantalisingly and naturally through the water at all speeds, all the while protecting the bait, within the lure itself.

Offered in all the MYDO Bellyshine and Candy Contrast colours, the MYDO Stripswimmer comes in two sizes. The number 1 weighing in at an ounce, and the number 2  – all dressed up  at 3 ounces.
Stripswimmers can be drifted, or slow trolled, and really come alive – the faster you dare to go. They are fitted with a MYDO Billplate that adds flash and action, and fits perfectly onto the pulling eye. For really high speeds, up to 12 knots or more, remove the Billplate for best results.
Insert: Image plus graphic
Supersquids
MYDO Supersquids fit onto MYDO Baitswimmer heads, over the bait, and provide protection, colour, flash and a perceptible lateral line. These factors are what can influence a fish to strike – and there's no denying (or explaining why), that some fish love certain colours. So colour up with a MYDO Superskirt!


Billplates
MYDO Billplates are add-ons for Baitswimmers and come standard on Stripswimmers. At very high speeds, up to 12 knots or more, it is adviseable to remove the Billplate.
They add flash, action and depth to an already irresistible offering. They also stop the Superskirt travelling up the line during those viscously fast strikes.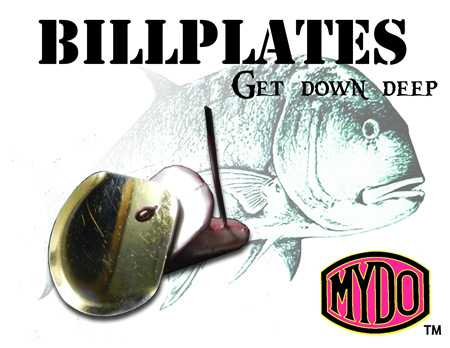 Luck Shot
A development based on all the features that make Baitswimmers what they are, adapted to fishing with plastics. For when you can't get bait, to when plastics work better than bait.

The Luck Shot range is designed for boat use – troll, drift, jig or cast…it swims true and with a delightful side to side motion that looks just like a natural free swimming but dozy fish.
Perfect for charters and beginners, they come in 3 sizes…the number 4, at 99grams, gets your plastic straight down there, even in strong current on anchor. The number 3 weighs 54g, and the number 2, 40g.
They come rigged with a soft plastic artificial paddletail or jerkbait, between 5 and 7 inches, and in a multitude of colours and combinations.
The deep-sea models come with a 7/0 to 9/0 Mustad O'Shaugnessy for releaibility and a good chance at those yellowfin, amberjack and yellowtail.
Insert: graphic and new photo
All current MYDO fishing tackle is available in the SHOP…
Luck Shot Mini
A new favorite lure in a rock and surf anglers tackle box – the MYDO Luck Shot Mini – turns everything on it's head with it's wild, flailing, swerving, reeling, veering action. It just cannot go straight and at different speeds, does entirely different things.

Available in two sizes, for versatility (they are great for deep sea) and casting power. The number 2 weight 2 and a half ounces, perfect for casting in difficult conditions, like at night or in strong winds. The number 1, at 1 ounce, is a gem that can be placed accurately anywhere you want it.
Watch the video here for a full explanation…
Note: After severe beatings, by fish, or by the sea, some paddletails fall part and slide down the hook. Just use cotton, or elastic and tie the plastic down, until it literally falls off…then replace.
Jerk baits or slimmer paddletails, handle wild surf conditions, the best.
____________________________
For more information on the use and rigging of MYDO's…please do not hesitate…Sean is on 079 326 9671 or umzimkulu@gmail.com.
The Baitswimmer range revolutionised bait fishing for gamefish and paved the way for the MYDO range of fishing lures.
Next came the revolutionary Stripswimmers…used with or without bait and trolled at any speed up to 12 knots!
Many variations of the Baitswimmer theme have been developed, then the the Superfish…for trolling, casting and surf bait fishing…
Then the revolution has started…the all new MYDO Luck Shot, limited in availablity whilst the factory goes into overdrive to produce a decent number of lures into stock before we hit the market with them.
Prices are recommended retail prices, discounts available for bulk orders. MYDO also offers a complete tackle-up service for you and your boat or trip…rods and reels, tackle and bait, advice and expertise, boats and accomodation…umzimkulu@gmail.com for more information.
_____________________________________________________
More of the same type of info…
Baitswimmers
The Baitswimmer range is designed to swim a dead bait like a live bait. The hydrodynamically designed Baitswimmer transfers side to side motion via the pin, to the bait…the bait then swims as if it's alive. They are sized for bonito, shad, mackeral and smaller maasbanker/karapauw/sardines. You can specify heavy or light rigging, and in various trace lengths, to always be a perfect fit, for your bait.
The rigs will never spin and can be pulled at speeds up to 8 knots…or until the bait disintegrates. We have Supersquid skirts moulded and cut to fit the 4 different sizes, which add colour and protect the bait…and more added bling in the form of a BillPlate adds dramatic flash and more depth.
On the drift the Baitswimmers hold the bait vertical but it's on the troll that they really prove their worth. Using the various sizes and configurations, you can fish most of the water column and fish with more lines in the water.
Interspersed with a few Stripswimmers, you really cover baits for most target species.
Stripswimmers (only #1 SL and #2 LL)
Stripswimmers can be fished with strip baits or with plastics. As an alternative to the regular and way more expensive swimming lures, they can be trolled at high speeds, up to 12 knots if necessary.
Great for tuna and sailfish…and when fished with a juicy bellyshine or fillet, are effective at slow speeds too.
MYDO Luck Shot Mini
The all new drop shot revolution – an articulated drop shot head that just cannot go straight!
# 1 An ounce of revolutionary swimming action…works with "3 to 6″ plastics of any sorts from worms to paddletails. Comes rigged with one free plastic bait…available in a multitude of variations and colours.
# 2 The 2 and a half ounce frantic swimmer rigged with a 5″ to 7" Jerkbait or Paddletail
MYDO Luck Shot
The heavy duty drop shot system for heavy duty fish. They come rigged with a 6″ Paddletail. And can even be used to fish bait with. Either as a baitswimmer for longer mouthed fish like walla walla / ribbonfish, or even just as a bait swimming alternative that can be used to fish the bottom.
# 2 1.7 Oz trolling fast or slow
# 3 2 Oz for deeper water and jigging
# 4 at 3.5 Oz, this lure goes right down and gets em. Great on the jig.
Other Products
Rod Tip Protectors and Reel Covers

Spoons and Jigs
Daisy Chains
SuperSquids
Live-bait Traces

Complete rigging of your boat for a particular area or type of fishing – including rods and reels and all components of the The MYDO Fishing System

Guiding, Training and Tutoring for a particular area or type of fishing
Dealers can please contact Sean Lange on umzimkulu@gmail.com
There is a list of current dealers here.