Description
Darrell Hattingh Original: Humpback Whale and Calf
The Darrell Hattingh Original wall-hanging: Humpback Whale and Calf
Celebrating our marine wild life heritage with Marine sculptor and artist Darrel Hattingh. Humpbacks visit us here in KZN Natal each year, starting in about April or so. They travel north for a few months enjoying the calm playfulness of the Southern Indian Ocean. Then they turn around, many with calf, and head all that way back down to the Southern Ocean. Via the Cape this exodis travels and a world renowened spectacle to marine mega fauna groupies.
Against popular belief. humpback Whales are also as carnivorous as they get! They do not just eat plankton. Nope, these guys will take an entire shoal of sardines down in one hit. Anything that fits between their baleen filter teeth things. Even if forced!
And so, the humpback whale is a frequent flyer during the annual sardine run. And this wall-hanging sculpture by Darrell Hattingh, depicts a calf and mother. Enjoying the calm and sanctity of the winter warmth of the kzn south coast. A lot calmer than the southern ocean where these guys like to hang out most of the time (if they are part of a particular group of whales that do this annual pilgrimage, some do their own thing).
Darrell has observed first-hand, all the marine fauna that he sculpts. He has been in the mix every sardine run for decades. Right in the middle of it all. It is from this vaste experience that he draws in order to create the absolutely life-like and accurate in all attributes. Shape and motion. Colour and pose. Its all right there in minaiture format for you to wonder and marvel at all day.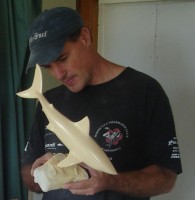 Darrell does not only do these beautiful wall-hangings. His other craft is also available right here on The Sardine News. And Darrell is often commissioned for originals. Or even repairs and revamps to existing works.
Orders via The Sardine News, for Darrells works, come with a lead time of up to and around a month. The parcel is carefully put together to make sure that the art arrives in perfect form and function.
The Sardine News is on YouTube right HERE, and we have a Facey page right HERE.